(
CNN
) — Sometimes it feels like the best Mediterranean islands must've started taking this year's summer bookings back in the 1970s.
All the best spots are long gone, leaving just overpriced or underwhelming options for last-minute travelers.
There are, however, still a few Med destinations that are still so far under the radar that even at the height of the season there's a fair chance no one else will have found them.
These tiny, quiet and remote islands resemble the Med before its popularity went off the charts.
Here are 10 of the best:
Iles Sanguinaires (France)
Their name translates as the Bloody Islands, but while Iles Sanguinaires may have had a gruesome past, these days it refers to more relaxing qualities.
The uninhabited four islets off the western coast of the French island of Corsica are famous for their "flamboyant" purple sunsets.
The sea and sky appear to bleed, setting ablaze the reddish volcanic rocks and creating Corsica's best evening displays, according to locals.
They're a diving and snorkeling hotspot, not least because hundreds of ships crashed there.
Adding to the spooky appearance are ruins of a former quarantine station for coral fishermen with "sangrunero" (black blood) — otherwise known as The Plague.
Mezzu Mare, the largest isle, has a lighthouse built on the remains of a Genoese lookout tower.
Linosa (Italy)
Reaching Linosa from Rome is a 24-hour journey — but it's worth it.
This volcanic atoll is closer to the coast of Tunisia than it is to the Italian island of Sicily.
Landing here is like touching down on another planet — Mars.
The jet-black beach of La Pozzolana has sulfur-yellow and red layers. Its Black Planet bar is popular for sunset aperitifs and private dinners.
Snorkelers dipping their mask into the water are greeted by black crystal-clear scenery.
The island is home to loggerhead turtles and there's a hospital dedicated to helping heal those hurt on fishermen's hooks.
At night, under starry skies, the turtles come ashore to lay their eggs.
A hike into the island's center reveals Monte Vulcano, an extinct volcano covered in fluorescent green prickly pears.
The island's main village is a bunch of low-rise pink and green dwellings.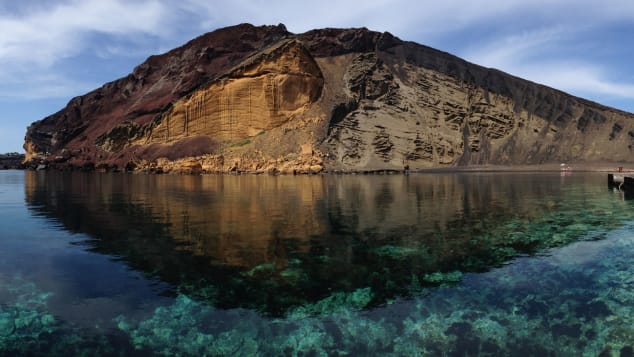 Susak (Croatia)
Fewer than 200 inhabitants greet visitors to this three-kilometer square island, a former Roman settlement known for its grapes.
Though it was once the scene of a bitter clash between Venetians and Saracens, this tiny island has largely existed in isolation.
Even today locals speak a dialect that most Croatians struggle to comprehend.
The stone-built streets of the old town are, like the rest of the island, car free — only tractors, wheelbarrows and bicycles are allowed.
There are no banks or ATMs, but there's a post office.
Bok Beach's shallow waters and hot sands are said to have healing powers.
Chrisi (Greece)
This former pirate island with palm trees, sand dunes and emerald waters lies south of Crete in the Libyan sea.
There's a dense Lebanon cedar forest, a medieval chapel, Minoan ruins and Roman graves.
Visitors can cross it barefoot, but staying the night is prohibited — camping and campfires are forbidden.
The atoll has one small tavern and a bar on Belegrina beach.
Belegrina, also known as "Golden beach," is covered in broken shells, coral and fossils that the Byzantines used to make a scarlet dye for coloring the cloaks of Europe's royalty.
Medes (Spain)
Spain's beautiful northeastern Costa Brava can get crowded with visitors in the summer, but these seven islands just off the fishing village of Estartit are a peaceful world away.
A marine park of 16,000 square meters, the islands host ruins of a wall built by the crusading Knights of the Holy Sepulcher.
Guided tours by biologists are held twice a year to the islands, which are a top snorkeling and diving site.
The reefs of Carall Bernatt and Tascons swarm with lobsters, giant groupers and even some bigger predators.
Bozcaada (Turkey)
This island on Turkey's Aegean coast has been drawing them in for millennia.
According to Homer's Iliad, it's where the Greek fleet hid waiting for Odysseus' signal to invade Troy.
Sixteenth century Ottoman ruler Suleiman the Magnificent also made his mark, building an overhanging fortress, circled by vineyards.
Fishermen, shepherds and soldiers were once the sole inhabitants, their legacy is a maze-like town filled with picturesque houses and fish taverns.
Sunsets at Polente lighthouse are a top attraction.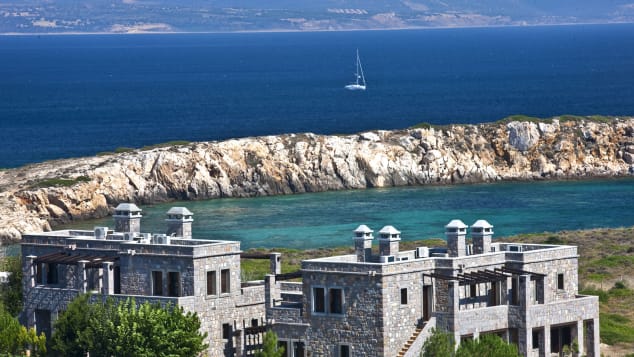 Palmarola (Italy)
This lost, wild treasure isle, popular with weekending Romans, is considered by many as the Med's most beautiful.
It's a trip back to the Jurassic age, with lush vegetation, fluorescent blue waters, grottoes and massive sea stacks.
The Cathedrals are impressive cliffs. I Fucili (the Rifles) are the leftovers of a collapsed natural arc.
The golden and silvery pebbled inlets are so smooth it's like swimming in an artificial pool.
Ile Piana (France)
This tiny island resembles an atoll in Micronesia, but is instead found 300 meters off the southern tip of Corsica.
It can be reached, depending on the tide and fitness levels, simply by walking or swimming from Piantarella beach on the Corsican mainland.
Once they reach its shores, visitors can recover from their exertions on the talcum powder sand by admiring some of the Med's clearest waters.
When the wind blows, the area becomes a haven for kitesurfers and kayak freaks.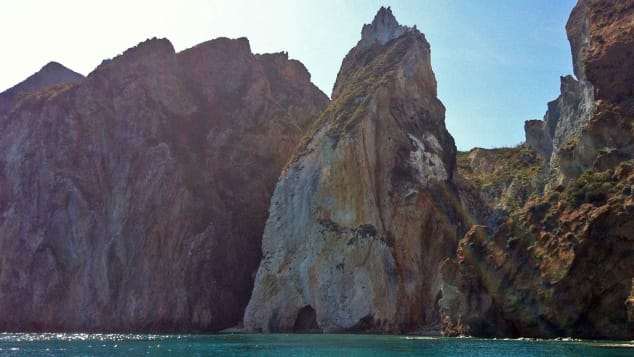 Serifos (Greece)
Greece's Cyclades islands are no strangers to boat-hopping visitors, but many overlook Serifos for the more spectacular Santorini or the boozier Mykonos.
In Serifos, they can explore untouched inlets by foot along trekking routes or take jeeps to abandoned mines.
Even in August, travelers can enjoy the luxury of suntanning solo at Karavi and Ampeli beaches, the scent of wild thyme and figs filling their nostrils.
The white Chora village sits atop a rocky cliff the color of rust.
Alicudi (Italy)
With no electricity and no engines, the only transport around this Italian island is donkey "taxi" — and they're essential.
There are no paved streets, just 25 kilometers of mule tracks winding around the island and no fewer than 10,000 steps up and down layers of whitewashed dwellings.
Alicudi, the farthest and wildest of the Aeolian Islands, offers a no-frill, zero sound-pollution break amid turquoise waters and silent beaches.
Visitors should bring cash as there are no banks.
There's a tiny supermarket and news stand, but no other shops and nowhere to buy cigarettes, not that anyone should be smoking and tackling all those stairs.